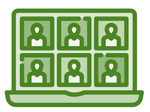 ADHA and Dentsply Sirona Present: The Hygienist Circles – A Multi-Part Webinar Series
Aug 26, 2021
Virtual
---
Details
The purpose of this course is to equip dental hygienists with knowledge on supporting their patients to achieve a lifetime of oral health. Understanding the importance of building a continuum of care is essential to effectively deliver safe dentistry and adequately increase the patient dental IQ. At the completion of this course, attendees will be able to identify solutions that enhance the preventive appointment and promote better oral health for their patients.
Learning Objectives:
1) Discuss building a continuum of care that promotes patient oral health and encourages a safer clinical working environment.
2) Review the entire preventive appointment and the series of steps that contribute to diagnosing and preventing dental disease.
3) Identify products that simplify preventive procedures, protect the musculoskeletal health of the dental hygienist, and enhance infection prevention.
4) Identify products that are proven to be effective in improving patient safety, increasing patient comfort, and promoting better oral health.
---