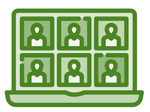 ConneXt Conference
Sep 30, 2021 - Oct 01, 2021
Virtual
---
Details
We believe now, more than ever, we need to connect with each other and consider what's next for our practices.
CONNEXT Virtual Dental Conference is an annual CE event designed to offer education, collaboration, connection, and innovation between dental providers and industry leaders.
YOU BELONG HERE
Are you overworked and underappreciated?
Are you struggling to truly connect with your patients?
Are you striving to be a better clinician?
Are you frustrated with patients only doing the work insurance will cover?
Do you want to work less and make more?
Then you're in the right place.
CONNEXT will help you overcome these barriers, struggles, frustrations, and help you realize you are not alone. And, there are easy-to-implement solutions you can start today supported by a community of brilliant minds.
---