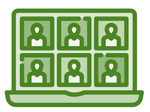 Gateway 2021 Crossing The Bridge in Dentistry, Bonus Plans: In Your Practice, The "Whys" and "Wherefores" of a Successful Bonus and Incentive Plan
Sep 29, 2021
Virtual
---
Details
Does this sound familiar? You worry about the bottom line. You try to implement change to accomplish positive goals, but find yourself being met with resistance, resentment, and in some instances, back-biting from those you're trying to empower to succeed. What should you do?
A strategic bonus plan is a proven way to overcome these challenges. Simply put, bonus plans are not about people not doing their jobs, but rather about a way whereby everyone, through accomplishing more, shares in the financial success of the practice.
Learn the "whys" and "wherefores" of implementing a successful bonus and incentive plan in your practice.
---