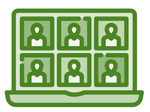 Human Trafficking: Understanding the Issues
Aug 04, 2021
Virtual
---
Details
This course is designed to awaken the dental community to the possibility of human trafficking involving patients seeking care in a dental facility. Many clues may be evident and exhibited by a patient or even by the perpetrator who may be accompanying the victim. Unless the healthcare professional is aware of the signs, the opportunity to assist the victims may not be recognized. Communication with the victim is key in gaining trust and understanding the issues involved in each circumstance. Dental findings that may be present are assessed during the oral exam will be discussed. The protocol for reporting human trafficking will be presented. Many states are now requiring a course in this subject matter.
At the completion of this course the participants should be able to:
Identify the verbal, physical and dental clues that indicate a patient may be a trafficking victim or a perpetrator.
List the key professions involved in the subsets of both labor and sex trafficking.
Understand the characteristics of individuals who become targets for perpetrators.
Become knowledgeable in ways that a health professional can assist a victim and obtain help.
Identify the key verbal and physical indicators that suggest your patient may be a victim.
Become comfortable with key communication factors in approaching a human trafficking victim in conversation.
To register by phone, please call (603) 736-9200
---