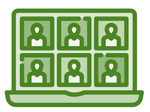 Isolation Techniques for Direct and Indirect Restorations
Sep 30, 2021
Virtual
---
Details
Isolation methods and moisture control could make or break the placement of a posterior restoration. Without proper moisture control, the adhesion of the composite could be greatly compromised and lead to a marginal breakdown, microleakage, recurrent decay, and ultimately a complete failure of the restoration. This course will explain the various types of moisture control and isolation methods for placing posterior restorations to ensure long-term success.
Learning Objectives:
Identify the various systems available for proper isolation and moisture control specifically when placing posterior restorations.
Review "tips and tricks" of the systems and methods of placing isolation as well as posterior restorations.
Be able to determine what methods work best in their specific practices.
---