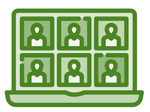 Oral Pathology Review
Jul 14, 2021
Virtual
---
Details
Course Description:
One of the most important parts of our jobs as dental professionals is to look for potentially dangerous conditions in the mouth. Looking for oral pathology is challenging as there are a wide range of normal appearance of tissues in the oral cavity. Being able to differentiate normal from possibly abnormal conditions is very important.
In addition to reviewing various pathologies that can be observed visually by routine oral inspection, this course will also review oral pathologies that are best detected on radiographic inspection.
This course will review important oral pathology conditions such as:
Amalgam tattoo
Leukoplakia
Fibroma
Mucocele
Hemangioma
Epulis Fissuratum
Inflammatory Papillary Hyperplasia
Geographic Tongue
Angular Cheilitus
Smokeless Tobacco Pouch Keratosis
Lichen Planus
Oral Melanotic Macule
Buccal Exostoses
Dentigerous Cyst
Incisive Canal Cyst
Lateral Periodontal Cyst
Ameloblastoma
Central Giant Cell Granuloma
Periapical Cemento-Osseous Dysplasia
The course will discuss how to properly refer patients to oral medicine specialist when potential oral pathology problems are observed.
After completing this course, the clinician will be able to:
Be able to differentiate lichen planus, smokeless tobacco pouch and leukoplakia and how to treat each condition.
Be able to recognize cemento-osseous dsyplasia and when to treat.
Differentiate cysts found in the mandible such as ameloblastoma and dentigerous cyst.
Differentiate the epulis fissuratum, papillary hyperplasia and squamous cell carcinoma.
Recognize basal cell carcinomas, where to examine the patient and follow up.
Instructor: Dr. Vera A. Brown, DMD, ART Provider
About Live, Interactive Webcast Continuing Education Seminars:

A live, interactive webcast seminar is similar to attending a continuing education seminar in your community, except that you attend via your computer. Each course is done live in a format that allows your participation.

Anyone who has access to a computer that can play sound can participate in an ACES webcast seminar. No special computer knowledge or equipment is required to participate in our webcast seminars.

When you enroll in any ACES webcast course, you will be sent an e-mail with complete information on how to join the online seminar and a copy of the course syllabus. At the conclusion of your live seminar, you will complete a course examination online. You will then be able to print your continuing education certificate from your computer.
---