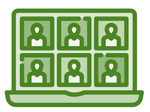 The Keys to Practice Profitability and Overhead Control
Sep 11, 2021
Virtual
---
Details
Speaker Jeff Santone
Say goodbye to an inefficient, hectic schedule with little or no production to show for it. When you implement what you learn from this seminar, you'll have an enormously productive and profitable schedule and produce far more in less time! During this live-stream seminar, you'll learn:
The real financial barriers a dentist faces in today's market
The biggest overhead sources and how to manage them.
How to calculate the true overhead of your dental office and suggested percentages for each category.
---