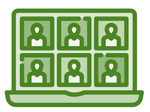 The Teeth are Talking: Dental Hygiene Trends You Need to Know About, Part 2
Aug 06, 2021
Virtual
---
Details
Description:
This webinar is designed to expose dental hygienists to recent trends that may be instrumental in shaping practice philosophy, clinical guidelines, treatment protocols, and sustainable solutions for career longevity.
Learning Objectives:
Consider the value of emerging trends daily clinical practice
Leverage research and technology to deliver evidence-based care
Utilize current trends that maximize patient care and support ergonomic health for clinicians
About The Presenter:
Dr. Joy D. Void-Holmes is the founder of Dr. Joy, RDH, and the creator of the Dental Hygiene Student Planner. She has been in the dental field for over 27 years. She is currently a part-time faculty member at Fortis College in Landover, MD.
Disclosure:
Dr. Void-Holmes has received an honorarium from AEGIS Communications for her preparation and presentation of this program.
---