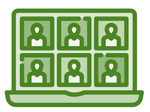 Understanding Special Needs Patients
Oct 13, 2021
Virtual
---
Details
This course will provide knowledge to dental professionals in caring for special needs patients. They will be able to identify certain characteristics associated with several disabilities. They will learn various options for home care instructions and ways to improve their communication skills with patients and their caregivers. The participants will also be able to recognize medications and medical issues that are commonly associated with special needs and how they affect oral and systemic health.
Objectives:
Recognize certain characteristics of several disabilities
Identify several medications that cause oral complications
Facilitate different options for homecare instructions
Teach ways to reduce patients' stress and fear
Recognize assessment tools for proper treatment options
Obtain better communication skills with patients and their caregivers
About The Speaker:
Angie Yorina is a dental hygienist that has worked in private practice, classroom settings, and as a Dental Hygiene instructor for Luzerne County Community College. She obtained a Bachelor of Business Administration and a Master of Organizational Management from Misericordia University. In 2010 she received her license as a PA Public Health Dental Hygienist Practitioner and is a volunteer that offers free dental hygiene services for the non-insured. Angie is the Co-founder or the Luzerne County Down Syndrome Network and does public speaking on a number of dental related courses.
---