The Problem with Today's Hygiene Economy
Having trouble finding a hygiene job? You're not alone! The down economy and influx of new hygiene graduates has made it a terrible time to be seeking employment. There are roughly 7,500 new graduate hygienists each year from 354 dental hygiene schools across the nation. Compare that to only 56 dental schools for a ratio of nearly 1 dental school to 6.3 hygiene schools!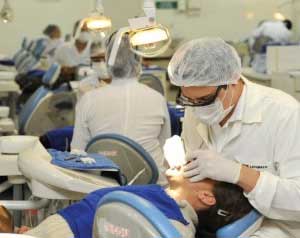 The problem of finding employment has many factors. Most new dentists graduating are coming out of school with a lot of debt. The last thing they want to do is go more into debt just to have their name on the side of their own building. They are not opening offices and hiring employees. Most of them are working for a large group practice, are becoming associates in offices that already have staff, or are going back to school for a dental specialty. All these scenarios affect you as that means they don't need a hygienist.
For current dental hygienists, most are not the main income of the household. They primarily had a spouse who worked full time and brought in most of the income, or carried the family's health insurance through their employer. Now with the downturn in the economy, hygienists are not retiring as quickly as before. They are not going to part time hours, and are not taking as many vacations. They are working longer to supplement their income to make up for their spouses occupations. I've also heard stories from some hygienists who are now supporting their college graduated children until they find jobs in their careers. It's amazing to think how all of this is connected – even how occupations outside of dentistry can come back to affect us!
In addition, dentistry has seen a huge hit as fewer patients are coming in for treatment.  As a whole, dentists are seeing many openings in their schedules with a lot of patients losing jobs, dropping insurance, etc. Patients who had insurance at one point are now often working less than 30 hours which drops their status at work to ineligible for full time benefits = no insurance. This has greatly affected dental hygiene as less patients equals less work and less job openings.
So, what do you do about it!?
Here are some tips I have to help find work.
1. I recommend using my friend's website www.DentalPost.net . It's a website that lists all online jobs in one place. The best thing I like about it is that the website will automatically send you daily email updates so you'll know the moment a new job is posted.  They also have an app that can be installed on your smart phone and now you can get instant notifications when a job is posted.  You can literally apply with a touch of a finger seconds after an employer is looking for an employee!  I've had friends who received a daily email and applied for a job the first time it appeared on the website – which was posted 6 hours earlier. She applied for the job through her iphone instantly, emailed her resume, they called her that day and she interviewed the next. She was working full time by the next week. Great website! The owner of the website is Tonya Lanthier, RDH and she runs this website which is the #1 in the nation for dental jobs. Don't procrastinate either. Jump on a job opening the moment you see it. Don't wait for when you have more time. Make time! There could be others sending their resume while you are putting it off for another moment. Carpediem!
2.  Don't be afraid to temp! Call dental staffing companies – all of them! In addition to sending out your resume, make phone calls to dental offices and let them know you are available to temp, short notice work, maternity, vacation, etc. Temping is a great way to test the waters and see how different offices work. It will also help you learn and appreciate when you find a good office! Sometimes people think there is always a better job out there and that the "grass is always greener somewhere else." Sometimes it's true, but sometimes it's a whole lot worse! Speaking from experience, I've left an office for a position at another, only to find out that it was worse than the office I started at. You never really know what a job is like until you've worked there. Jobs with 60 or 90 day probationary periods are great both ways. It may sound like it's so the office can tell if they like you, but I like to think of it as a way to tell if you like the office!
3. Send copies of your resume to offices with a nice letter addressed TO THE RDH. You can call the offices if you have time to find out the RDH's names, or just send it addressed to the dental hygienist. Let them know you can cover short notice, maternity, vacations, etc. Oftentimes the front desk gate keeper doesn't pass on the info to the rest of the staff about new resume's coming in. It also makes a great impression with the RDH and if I was looking for a temp RDH, I'd be more willing to call someone who sent me a letter "personally" than one to the front desk. I call the front desk the "gate keeper" because a lot of times you have to get through them to get anywhere. They receive the mail, the faxes, the phone calls, etc. I've been at offices where resume's were faxed and the front desk staff would take it off and put it immediately into the trash can. I'd hate to think this is common practice, but keep that in mind.
4. If you have dental assisting experience, look for work there. You can also take it one step further and you can be a hygiene assistant, coordinator, etc. Being a hygiene assistant actually has a chance to increase office production more than being a dental assistant as when there are overflow times you can jump in and help. This has led to several people getting full time hygiene jobs as they patiently waited for the opportunity to come open. There are some practices which do accelerated hygiene and in those instances a hygiene assistant is needed. You wouldn't be paid like a hygienist, but being paid is better than being unemployed! Right?
5. Stay involved in study clubs, ADHA meetings, health department vans, volunteer at schools, go to nursing homes to teach the CNA's, etc. It keeps you on your toes, keeps you involved in dentistry, is a great way to network and get your name out there. Also participate in several online communities such as the "Dental Hygiene Life" group on Facebook (www.DentalHygieneLife.com)  There is a wealth of information out there and what you learned in school is only a small fraction of what the real world is like. You never know if during an interview a dentist will ask; "What have you been doing in your time after graduation?" Do you really want to answer that with; "I use Facebook a lot during the day, take an afternoon nap so that I can "fist pump' all night." Imagine how surprised a potential employer would be if your answer was "I'm glad you asked! I've taken this downtime to prepare for my career in dental hygiene. This time off has allowed me to educate myself further what the real world is like. I've subscribed to several magazines such as Dental Economics, Dental Town, HygieneTown, RDH, Dimensions of Dental Hygiene, etc. Reading them shows me a side of dentistry beyond just a textbook. I've also studied and learned about different practice management software's such as Eaglesoft and Dentrix (see below). Doing this will make me more valuable to my employer when I do find one!" Speaking of magazines, it doesn't hurt to "name drop." Most dentists read Dental Economics and Dental Town. Both of those magazines are free and they do contain many hygiene related articles and articles on the business of dentistry. Think outside the box!
6. I love craigslist.com for personal things, but honestly most dental hygiene jobs would not be listed there. In my opinion most of the great jobs don't really have to be advertised… they are spoken about through word of mouth, or filled from a temp who has been at the office before and already knows the staff and policies. If you have a friend who is working as a hygienist – go out to lunch with her/him one day and have them invite the rest of the staff. This will let you network with them and could lead to using you as temp one day, or maybe passing your name along to a friend of theirs who works at a different office. Every opportunity is a chance to get your name out there, make friends, and maybe find employment!
7. Brush up on your resume! Many new grads don't have dental experience. If you have other types of employment history – make it sound dental related. Did you work with customers? Build rapport? Manage? Work with little to no supervision? Pay attention to detail? There are many things that can apply to a hygiene profession that does not come from physically working at a dental office. Also make your resume stand out. Offices are getting a lot of résumé's these days and if you want to be contacted, it's best to be unique in some aspect. Whether it's your work experience, cover letter, personalized touch, experiences, etc – just no Legally Blonde pink paper please! Remember to know your audience! If you have a boring resume', then… well… you just look boring! It's amazing how poorly some résumé's are written and formatted. There are resume' services out there, but beware! The people who are looking at your resume and giving input that are not in the dental industry don't know what the profession is like. Having a resume' to get a job at Wal-Mart is much different than a job as a dental hygienist.
8. As crazy as this might sound – ask to shadow a friend or classmate that already has a job. I wouldn't necessarily stay the entire day, but perhaps shadow them until lunch time. I would make sure the person had been working at that particular office for at least a month first, though. This will keep your "head in the game", so to speak. If you are still friends with your "big sister/brother" then shadow them. You could even help cleaning the rooms, seating the patients, walking patients out, periodontal charting, etc. It would give you the opportunity to see how a real office "flows". Pay attention to detail! Familiarize yourself with the computer software they use (see below), and learn how dentistry is "sold" (some don't like the term "sold" but rather "educated"… another topic for another day!). Don't just be a fly on the wall. Get in there and get your groove on. Glove up and help suction, be friendly with the staff, smile A LOT! Look extremely happy to be there. You never know what may come of a day of your time without being paid. Sure, we'd all like to make money, but didn't you just work your butt off clinically for two years for FREE!? What will another half day of observations for free hurt, especially when you can land a job from it!? If that friend ever needs a temp, I bet they would call you as you are already familiar with their office, staff, and doctor. Think outside the box, sometimes! Oh – and I'm all about eating lunch with the staff! Have the person you're shadowing invite others to lunch. Pay for your friend's food and get friendly with everyone else. Be yourself!
9. Take the time off to learn about the different dental practice management software that is available. The majority of offices you will come across will either run Dentrix, or Eaglesoft (from Patterson Dental). Visit their websites and download some software manuals. I wouldn't go into real heavy detail with them, especially things on the front end (front end is another term for front office). You don't need to learn about insurance, claims, billing, etc. I would just take the time to review digital radiographs, scheduling, editing the chart, periodontal charting, charting decay, creating and sequencing dental treatment plans, etc. Everything you would need to know on the back-end (i.e. back office, clinical side of dentistry). Also there are often training DVD's you can purchase online, videos on YouTube.com, and even in person training sessions you can attend. There are several other lesser popular programs such as Easy Dental, Kodak Practice Management, and more. I wouldn't focus anytime on those as the offices that use them are not as prevalent.
10. Stay patient and positive. Good things come to those who are patient (well that's what they say anyway, right? Maybe whoever said that wasn't broke and looking for a job!). The worst thing you can do is to think that hygiene is not right for you. I've had emails from students who are second guessing their career choice because of there not being any job openings. You worked your butt off to obtain this degree! The job market is difficult now for EVERY type of industry. It's something that is out of your control, so remember that. Until we can get an RDH Stimulus Package from Mr. President, we are on our own.
Let's stick together and help motivate each other. It will get better!
Categories: DentalPost Blog
Tags: