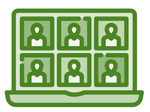 Diagnosis and Treatment of Medical Emergencies in the Dental Office: Part 1
Jul 29, 2021
Virtual
---
Details
The live webinar is designed to expose the participants to medical risk assessment, emergency medical equipment and drugs, and algorithms to treat medical emergencies in the dental office. The course content will be geared to the capabilities of a general dental practice.
Assessing common chronic medical issues
A stoplight approach to medical risk management
Preventative strategies
Creation of an emergency plan
Staff responsibilities
360 communication
Emergency equipment
Emergency drugs and their use
Scenario based simulated medical emergencies
Emergency specific treatment algorithms
Voluntary audience participation and discussion of treatment options
At the completion of this course the participants should be able to:
Employ a systematic approach to medical risk assessment
Identify the most common chronic medical conditions
Identify medical conditions that need consultation with the patient's physician or specialist.
Describe the methods of preventing of medical emergencies.
Describe the basic and specific emergency medical equipment and necessary drugs.
Have a medical emergency protocol in place.
Define the roles of the office staff in an emergency medical situation.
Have a systematic protocol to ensure all emergency medical equipment is in working order and medication expiration dates are routinely checked
Have an understanding of the common medical emergencies encountered in a dental office.
Describe the use of 360 communication during a medical emergency.
Describe specific medical emergency algorithms for each emergency encountered.
Register
To register by phone, please call (603) 736-9200
---