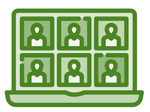 How to Become a Superhero in the Fight Against COVID-19
May 14, 2021
Virtual
---
Details
3 CEUs
Learn How to Become a Superhero in the Fight Against COVID-19
Date: Friday, May 14
Time: 9:00 AM – 12:00 PM
Fee: $25 – $50
This session is complimentary for attendees registered for the SSS at the 2-Day rate
On February 11, 2021 the California Department of Consumer Affairs (DCA) issued an order waiving restrictions on registered dental hygienists relating to administering COVID-19 vaccines. This session will overview that waiver and the conditions which must be met in order for the registered dental hygienist to become certified to administer COVID-19 vaccines. Streamlining the process has been a priority for the CDHA and attendees will be given the most up-to-date information on how registered dental hygienists can join the fight against COVID-19…as a vaccinator!   
Learning Outcomes:
Understand the DCA waiver and process in which the RDH can become a non-traditional vaccinator.
Appreciate the role of the California Department of Public Health and CDHA in this process.
Access step-by-step methods for obtaining vaccinator status.
Click here for more information.
---