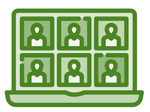 Introducing Lasers in Managing Periodontal/Soft Tissue Conditions
Sep 24, 2021
Virtual
---
Details
Dr. Samuel B. Low
Ready to enter the laser world?
Or have an "unused" laser in the closet?
Lasers offer a very safe and effective alternative for a wide range of soft tissue dental procedures especially facilitating quality restorative dentistry. Advantages include: increased precision, controlled bleeding, accelerated healing, reduced post-operative issues, shorter procedure time, less pain, greater case acceptance and a more relaxed experience for the patient.
Roll up the sleeves (see live demonstrations) and explore diodes to all tissue lasers with procedures as frenectomy, biopsy, aphthous ulcers, gingivectomy for restorative access and troughing. Lasers create value added revenue for periodontics with non surgical periodontal care.

---