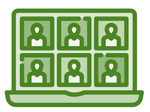 Maximize Your Production Through Increased Equipment Uptime
Aug 25, 2021
Virtual
---
Details
The better you know your equipment, the easier it is to keep it operating productively. This webinar is for anyone who wants to extend the time between inevitable repairs through proper maintenance and more effective TLC. We'll also talk about equipment room safety, common failures, how to spot warning signs early and knowing when it's time to call in a professional.
Objectives:
Understanding your equipment's factory maintenance guidelines.
Recognize the importance of your equipment's maintenance.
Setting up and maintaining good dental equipment records.
Identify great questions to ask when purchasing your equipment.
Our Benco Dental Speakers:
Dan Bump, Vice President of Field Services
Curtis Carter, Director of Field Service – West District
Matt Caskin, Director of Field Service – South
IMPORTANT THINGS TO NOTE
*Please be sure to register with your name exactly as it is on your license.
*CEs will only be awarded for the time you participate on the live webinar.
*Attendance is limited to the first 1,000 people who register.
Can't attend this live webinar? No worries, register anyway and we'll email you a link to the recording after the webinar!
---