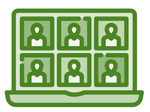 Patients Like Payment Simplicity, Let's Give Them What They Want!
Sep 22, 2021
Virtual
---
Details
Today's dental patient is a discerning customer who is expecting a rapid yet significant interaction with their dentist. This expectation includes a smooth, primarily digital, patient journey with payment options that mirror everyday consumer purchases. For dentists, an enhanced patient experience has quickly become a motivating factor to implement digital payment solutions. We will discuss how the more digital the experience, the more effortless the patient journey becomes resulting in a more appealing practice.
Learning Objectives:
What today's dental patients want
• As patients are increasing their in-office interactions, they desire improved experiences. Research indicates that most want the time-saving digital tools that make their in-office interactions more valuable and care-focused.
• Patients want to pay their bills. They want to understand what they will owe, need options to finance their care, and are willing to make arrangements to do so – even prior to coming into the office for treatment.
• Patients will pay their balances due through online solutions including via website, mobile phone, or as a response to a text message. This will accelerate the rate at which the practice gets paid for services rendered.
• Patients want access to payment plans. Dentists have a great opportunity to capture recurring revenue by presenting payment options to patients. We'll discuss how the prevalent retail trend of "Buy Now, Pay Later,", is a mainstream consumerism effect impacting the healthcare industry.
---