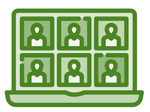 Short-staffed or overstaffed? Let your practice data be your guide.
Jun 16, 2021
Virtual
---
Details
Staffing shortages are the new normal. While the current dental staffing shortage is more severe right now due to the pandemic,
we've actually been experiencing a shortage since as early as 2018. And the Health Resources and Service Administration expects
projected demand for dental care to outpace the projected supply of dental health care workers until 2025. With the dental team
representing the most valuable asset of any practice, how can you practice successfully through a staffing shortage?
Attend the webinar to learn how to:
• Use Practice Data to Evaluate Supply and Demand
• Maximize the Effectiveness of Current Team Members
• Write Job Ads that Will Attract Team Members Who FIT
• Locate and Evaluate Associate Candidates to Grow Your Practice
---