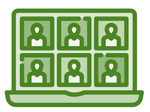 The Art of Scheduling Productively Seminar
Sep 24, 2021
Virtual
---
Details
Speaker Jeff Santone
Say goodbye to an inefficient, hectic schedule with little or no production to show for it. When you implement what you learn from this seminar, you'll have an enormously productive and profitable schedule and produce far more in less time! During this live-stream seminar, you'll learn:
Example scheduling policies to be used in your own office.
The structure of an efficient and productive schedule.
Ways to stay on time throughout the day.
Methods of reducing cancellations and holes in the schedule.
How to troubleshoot and manage the schedule on a day-to-day basis.
---