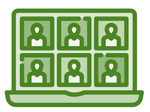 The COVID 19 Pandemic, Stress and Temporomandibular Disorders (TMD)
Apr 21, 2021
Virtual
---
Details
Steven Syrop DDS, Ira Lamster DDS, MMSc
The relationship of TMD to stress will be reviewed, and the proper approach to diagnosis will be presented. Treatment modalities will be examined, with an emphasis of what can be accomplished in general dental practice. Participants will learn:
This webinar will examine the increased occurrence of TMD associated with the COVID 19 pandemic.
Know the proper approach to diagnosing TMD.
Be familiar with the range of treatment modalities that can be used to treat patients with TMD.
Categories Oral Health and Overall Health, Patient Management
Language English
Release date Wednesday 21st April, 2021, 08:00 PM
Expiration date Sunday 21st April, 2024, 08:00 PM
AGD PACE subject code(s)200
---