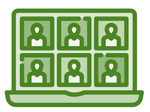 The Dental Dream Team Live-Stream Seminar
Sep 03, 2021
Virtual
---
Details
Most highly productive and profitable dentists have one thing in common: a great staff!
Want to join the club? Take your first step by learning how to assemble a staff "dream team" of your own!
Wouldn't it be great if you could always count on your team to:
Get all their work done quickly and efficiently
Give fantastic service to patients
Be highly skilled at their jobs
Do the right things to maximize production and create practice growth
You CAN have a great team in your office — and it's not just a matter of getting "lucky" by having a superstar employee magically appear at your office.
We'll show you how to consistently find good candidates and turn them into highly skilled, dedicated team members that work well together.
Jeff Santone, MA ECON
Jeff Santone holds a Master's degree in Economics from George Washington University and was a Senior Financial Analyst at the Federal Reserve Board of Governors for six years. He then joined his wife, Dr. Virginia Lee, as the business manager of Capital Oral & Facial Surgery Center.
In 2007, Mr. Santone enrolled in and completed the MGE Executive Training Program. Applying his expertise in the areas of management, personnel, finance and marketing, he has been instrumental in transforming Capital Oral & Facial Surgery Center into one of the top specialist practices in the DC Metro area. A model of efficiency, the office has seen a collections increase of 400%—$50,000 per month to well in excess of $200,000 per month, with only one doctor.
Jeff began lecturing all over the US & Canada in 2012 as a guest lecturer for MGE, and in 2018 came on board full time as part of the MGE team as our New Client Executive.
---