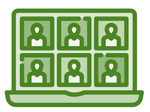 The Oral Pathology Playhouse: Name that Disease and other Oral Pathology Party Games
Aug 06, 2021
Virtual
---
Details
This live webinar is different from other Concord seminars in that it is a self-assessment test that you grade yourself. Everyone gets 100%! At the completion of this live webinar you will be an expert on the soft tissue and radiographic entities that every dentist and hygienist should know. Some interesting cases will "pop up."
Be ready for a real oral pathology adventure. We go over the entities together in an interactive format. It gives you a chance to see what you really know and what you have forgotten since school. This is the test that I give the junior dental students that they have to pass at 100% proficiency to go on to the senior year. Are you ready and able to take the challenge? Let's have some fun and make a difference in the lives of our patients.
At the completion of this course the participants should be able to:
Become proficient in the entities that every dentist and hygienist should be able to recognize and treat.
Test yourself to see where you fit in the oral pathology "food chain." Think of it as your oral pathology FICA score.
To register by phone, please call (603) 736-9200
---