As Richard Says, Screw Business as usual.
I've mentioned before that both times I've been to Necker Island as a guest of Sir Richard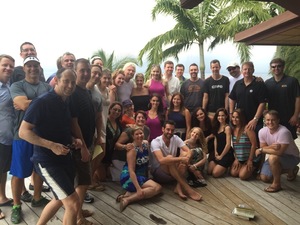 Branson, I soak up all kinds of knowledge. As amazing as every inch of Necker Island is, there's one place there that's almost sacred. Maybe that's why it's called a "Temple."
It's The Elders Temple, a meeting place Sir Richard built in the middle of Necker Island to bring together some of the most brilliant minds on the planet. It all started when Richard was talking with musician Peter Gabriel about an idea. What if a group of smart, worldly people – people who had held great power, but who were no longer held down by politics or elected office – worked together to make the world better? Or as Sir Richard put it: "Maybe there should be a group of wise men and women in this world who could go in and try to resolve conflicts."
The two men took their idea to former South African President Nelson Mandela and asked him and his wife, Graça Machel, to lead it. In 2007, Mr. Mandela founded The Elders on his 89th birthday. In announcing it, he said, "The Elders can become a fiercely independent and robust force for good, tackling conflicts and intractable issues, especially those that are not popular." He stressed they would work publicly and behind the scenes wherever needed. Sir Richard wanted to give The Elders a home base. "Over the years Necker has become a place for like-minded people to gather. I built the Elders Temple on Necker in 2007 and Nelson Mandela, Desmond Tutu, Kofi Annan, President (Jimmy) Carter, Mary Robertson and other great elders of the world formed The Elders, and have used it as a place to meet and discuss ways of resolving global conflict."
It's an amazing idea, really. We all know families, churches, communities, you name it, look to our elders for guidance, especially if there's some kind of disagreement that needs to be settled. Sir Richard and Peter Gabriel wanted to apply that concept to the world. Having a small, very passionate group of people use their collective experience and influence to help resolve the biggest problems in the world. Sound like a lofty goal? Well, that has Richard Branson written all over it!
Mr. Mandela remained an honorary Elder until he passed away in 2013. Anglican Archbishop Desmond Tutu was the first Elders Chair. In 2013, he became an honorary Elder and former U.N. Secretary General Kofi Annan became the Chair of The Elders, with Gro Harlem Brundtland, the first woman Prime Minister of Norway, as Deputy Chair.
Being in the Elders Temple was so humbling. To think of all the ideas that came from these great minds…the conversations that happened, the questions that were asked and actions that were planned. All that happened in the room I was sitting in at that very moment. It was inspirational. Archbishop Tutu once said, "Do your little bit of good where you are; it's those little bits of good put together that overwhelm the world." And Kofi Annan seemed to anticipate our next question: "I am often asked – what can people do to become a good global citizen? I reply that it begins in your own community."
The last night we were on Necker Island, Sir Richard gave us an opportunity to become good global citizens. We had a Christmas party and were all dressed in our finest. Richard announced he made us and our companies part of the Capitalism 24902 movement. It's named for the number of miles that make up the circumference of the earth. That defines the global reach of this idea. The goal of Capitalism 24902 is to make business a force for good.
Richard says it will make "screwing business as usual" possible. That's the name of his new book: Screw Business as Usual, or as The Economist summed it up: "How to have fun, do good and make money." In it he says, "How we treat our world is a reflection of our humanity, our intelligence, our conscience and ultimately, our very survival." He also says the way we live and the way we do business are changing like never before. Our growing interconnectedness, in part fueled by the growth of social media, is transforming the way the world works. As power shifts from the hands of central authorities to the hands of people, governments are becoming more powerful and are moving more rapidly than ever before.
We need to figure out how we help young people around the world to deliver a positive future. As for those of the "one percent" – and business leaders all over the world – we need to respond to this call and work together to ensure we build a far more equitable world. It means, as Richard puts it, bringing together "social and environmental values into the core of our business strategies. So screwing business as usual fundamentally recognizes that doing good is good for business."
That's an idea I can definitely get behind. In fact, while we were at Necker, we all decided to dedicate to use our businesses to create a way to give back to make a difference. We set rules that we would use to hold each other accountable. We set tasks to work toward to reach our goals. We all took up a collection to give to Virgin Unite that does just this.
We might not change the world overnight, but at least we're trying to change our corner of it. And as we do that, we hope to inspire others to make a difference in their worlds, too. That just might snowball into changing the world! And it all started – as many good ideas do – on Necker Island.
Categories: DentalPost Blog
Tags: dental culture dental staff dental students practice management