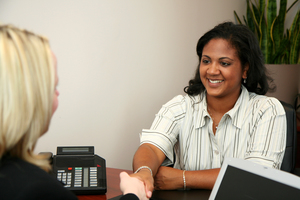 We all know that at the end of interviews for dental office jobs, interviewers ask some variation of, "Do you have any questions for us?"
This is the time for YOU to ask the questions because, more than likely, you have a ton of them. These questions could be the deciding factor in whether or not you choose this job, and can show the interviewer what you value in dental office jobs. We have included 5 questions to ask in interviews for dental office jobs.
 What are the biggest opportunities facing your dental practice right now?
The answer to this question could show what direction the practice is headed in and how you could help get them there. It will also show you if the practice has any opportunities coming their way, which leads to another important question…
 Where do you see this practice in a year? What about the next 3-5 years?
In other words, what are some goals or changes this practice wants to make in the near future? This question allows you to see how this practice is actively trying to better themselves and their employees. Most dental office jobs have a set of goals, so identifying them can allow you to see if your professional goals line up with theirs.
What do you like best about working for this practice?
Time to put the interviewer in the hot seat! This question gives you the opportunity to hear about aspects of the practice that aren't mentioned in the job listing. This also reveals the parts of dental office jobs that get employees excited.
What are some challenges that someone in this position would face?
 While this is a bold question to ask, an interviewer will likely respect your honesty and interest in knowing what you're up against. Every job has challenges, why not brace yourself? Also, becoming aware of the potential roadblocks may help you overcome them quicker!
Can you describe the culture of this practice?
Save this for the end of your questions. It ends things on a positive note and can tell you a lot about a dental office position. The environment of a workspace is very important to employees' happiness.
Equipped with these questions, you'll be able to get a better understanding of the dental office job you're applying for. Are there any other questions that you have asked in an interview that was helpful? Share it with us on Facebook or Twitter!